Heinz Marketing Inc | 8201 164th Ave NE, Suite 200, Redmond WA 98052 | 425.629.6340 | acceleration@heinzmarketing.com

To get your free copy of please fill out the form below.
Reports of the decline and pending demise of email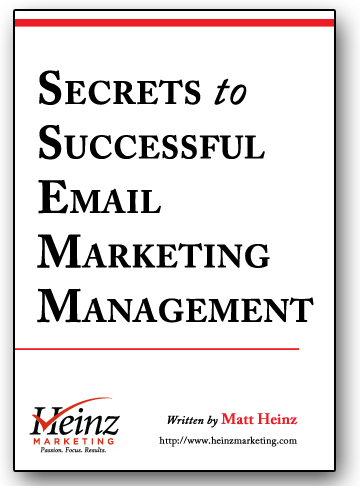 have been greatly exaggerated. Sure,
our inboxes may be more clogged than ever before. But that only drives us to work harder to separate the "spam" from the messages we want.
Email as a communication and marketing channel is as strong as ever. Our mission—and your job as a marketer—is to create and sustain a place in the minds and inboxes of your prospects, customers, partners and other key constituents such that they look forward to,
anticipate, accept and respond to your email marketing.
In this whitepaper you will see a variety of recommendations to improve your strategy,
approach and tactics for a variety of variables, stages and specifics in your email marketing
campaigns.
Download your free copy by filling out this short form.
Secrets to Successful Email Marketing