Heinz Marketing Inc | 8201 164th Ave NE, Suite 200, Redmond WA 98052 | 425.629.6340 | acceleration@heinzmarketing.com

To get your free copy please fill out the form below.
Events and trade shows represent the channel sales and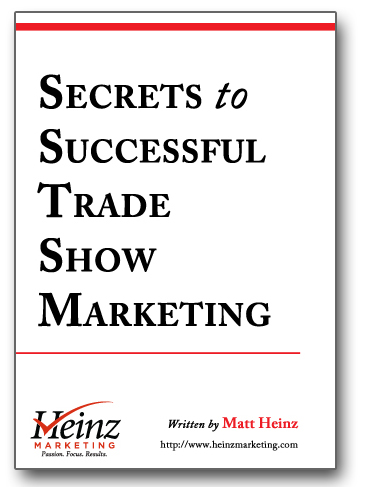 marketing people everywhere love to hate. High costs, LOTS of time (before and during the event), typically followed by less-than-exciting leads and few converted sales. But when executed well, events do have their place in delivering solid, profitable revenue. You just have to get a few things right.

In this report you'll learn specific best practices for
increasing awareness, new leads and closed business from your next event—with proven ideas to put to work before, during and after the show. You will learn how to:

Engage prospects and differentiate your business before you arrive
Increase foot traffic and conversations at the booth without spending a dime
Train all attending staff to maximize brand presence and lead capture
Prepare for successful follow-up before the show begins
Establish, track and report on the results and ROI of your event efforts

Download your free copy by filling out the short form on the right.

Secrets to Successful Trade Show Marketing